The devastation and destruction of Hurricane Katrina has shocked America and changed the lives of hundreds of thousands of people forever—from New Orleans to Houston, from Baton Rouge to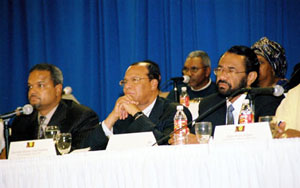 (L-r) Joshua Farrakhan, Minister Louis Farrakhan and Congressman Al Green listen to the stories of the evacuees. Photos: Stacey Muhammad
Dallas and other areas in the Gulf Coast Region to other regions across the country. The current crisis has left many unanswered questions regarding Hurricane Katrina, the role and the response of the U.S. government and private relief agencies. On Sept. 11, the Honorable Minister Louis Farrakhan and a delegation from the Millions More Movement toured affected areas to begin a fact-finding mission and listen to the suffering voices of the survivors to truly understand the breadth and depth of their needs.
Minister Farrakhan described the day as a "whirlwind" mission, wherein he traveled to Dallas, for a private meeting with New Orleans Mayor Ray Nagin, who is currently residing with his family there; to Houston to tour the relief centers and listen to survivors at a town hall meeting; to Baton Rouge, La., to address an audience of clergymen and community leaders and finally to Jackson, Miss., to meet with many of the Black mayors of smaller cities and towns in that area that have been devastated by Katrina but ignored by federal relief agencies, as well as the media.
In a press conference the following day in Charlotte, N.C.—the 17th city on his 23-city tour mobilizing the Millions More Movement, Minister Farrakhan informed of one of the most pressing issues discussed throughout the mission.

"If they are evacuees, don't they have the right to return, or are they being disbursed in a new Diaspora so that the other cities and towns can absorb this Black people, so that when New Orleans is rebuilt as a mainly White city, so that never again can New Orleans have a Black mayor, and Black police chief?" he asked.

He also revealed to the press a report that he received, from a "very reliable source" he said, that there was a 25-foot hole under one of the levees that broke, which suggested it may have been busted on purpose to destroy the part of the city where Black people lived.

"This is a horrible thing to think that somebody would do," he observed, "but all one needs to understand is our history, and Black-White relations in this country, and what some are capable of doing out of envy and desire for political and economic advancement."

He reminded the press of the only time that bombs ever fell on the soil of the United States—May 31, 1921, the bombing of "Black Wall Street" in Tulsa, Okla., one of the most economically prosperous and independent Black communities ever developed. He recounted that an incident over a Black person "insulting" a White person was fabricated and fomented the farmers' hatred and envy enough to take to the skies in their planes and drop bombs to burn the Black community to the ground, killing 300 people and wiping the entire district off the map.

The United States has some "very wicked people in high places if you look at our history," he added.

A tour of comfort

Upon their arrival in Houston, Congressman Al Green (TX-9) warmly received the Honorable Minister Louis Farrakhan and the members of the delegation for a tour of the George R. Brown Convention Center, which is one of many locations where survivors are given relief assistance.

The Millions More Movement delegation included Dr. Julianne Malveaux, Bob Law, Attorney Malik Zulu Shabazz, Minister Akbar Muhammad, Reverend Willie Wilson, Dr. Barbara Skinner, Erykah Badu, Charles Steele and Minister Benjamin Chavis Muhammad. Chief of Staff for the NOI Leonard Muhammad, who had been in the city for nearly a week prior conducting research and preliminary fact-finding meetings, he joined the delegation on the ground.

As the delegation toured the living area, the sight of Minister Farrakhan brought smiles to lonely survivors who shared their pain with him. Evacuee Michael Jackson approached the delegation to request help in finding his two missing girls and Minister Farrakhan talked with him on how it can be accomplished.

Councilmember Adrian Garcia and the Mexican Red Cross were on site providing relief service and Minister Farrakhan thanked them for their hard work. The delegation then toured the upper level eating area, where hundreds of Muslim volunteers rushed to shake the hands of Minister Farrakhan. Over 2,000 volunteers from the Houston Muslim Relief Group, which is comprised of a coalition of 20 mosques and local Islamic organizations in Houston, were on site to serve food and work registration tables and they were excited by the arrival of the delegation. Copies of Holy Qur'ans and Bibles were made available for the evacuees to have free of charge. Muslim doctors were given guidance from Minister Farrakhan and he shared with them the importance of the Prophet Muhammad's hadith that "half of your bowl of soup belongs to your brother."

As word of Minister Farrakhan's presence in the convention center spread, the crowd around him grew, as people wanted to share their stories with him. He hugged teary-eyed survivors, shook hundreds of hands and stopped to make prayer with others.

After the convention center tour, a near-capacity crowd filled the Power Center for a National Town Hall Meeting to hear untold stories of fear, anxieties, survival and heroic efforts from those affected by Hurricane Katrina. Survivors were bussed from the Astrodome-Reliant Center and the George R. Brown Convention Center to share their personal spiritual, psychological and economic challenges and traumas to the panel of leaders who were focused on hearing their pain.

From whence cometh their help?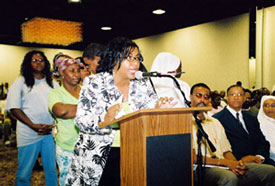 Maxine Johnson who lives in Houston has taken 47 people into her home but has not been able to receive assistance.
"I am here to let you know that I'm very depressed. I am so angry and devastated I don't know what to do! I'm not an alcoholic, I'm going to tell you the truth, but since this thing has happened to me I started drinking to deal with this problem! It's not getting better!" yelled Sylvia George. "I am not ashamed to tell the whole world!"

Her and her family ran out gas several times on their way to Houston and one time had to push their car for 30 minutes. "I had a car, but everywhere I went the gas stations were closed down."

Another survivor, Shaun, shared that he did what he had to do in order to escape the horror of the hurricane.

"One volunteer gave me a cold frozen sandwich," he recounted, "and I asked him, how was I going to eat a frozen sandwich? He told me to put it in my pocket and it will get warm."

Ms. Collins told the town hall meeting of her living "hell."

"I have never been in hell like this in my life! I have slept on cardboards and wet floors," she shared. "I now have nothing. They are not helping us, they are giving us peanuts. Could you all please help us!?"

Story after story of fear and pain were shared.

"I am scared and I am hurting. I'm not used to hand-me-downs. I was moments from blowing my head off from frustration!" shared Lavern McFadden through tears. "This is mentally abusing!"

"We were out of food and water for seven days strong. We didn't have any food. We saw helicopters and we put a red flag in the air to flag them down and they did nothing!" shared Aisha Williams, who is the mother of two children. "If it were not for the Black Panthers coming with those buses, we would have died! I am not going back to Louisiana, because they tried to kill us the first time."

"I feel a release just to be heard," said Annette Addison, who was thankful for the opportunity to speak. She is struggling to get assistance to feed and clothe her four children and two nieces. She said she received a debit card from the American Red Cross, but the money had not shown posted. "No one wants to give help."

Maria Farrakhan Muhammad, the National Directress of the Louis Farrakhan Prostate Cancer Foundation, traveled from Chicago to attend the townhall meeting. She told The Final Call that she felt compelled to get up out of her seat and go to the podium to hold and comfort a love lorn mother who was missing her child.

"I had a two-story home with two-and-a-half bathrooms and everything is gone, it's underwater. I'm still missing a son, I'm having crying spells for no reason," the mother lamented. "I'm trying to find my son. A mother's love is deep," she cried.

Sister Maria stated that, as a mother herself, she felt the woman's pain and had to rush to comfort her.

'We have to be proactive!'

After listening to several more reports, Minister Farrakhan addressed the audience with sincere compassion for the survivors of Hurricane Katrina.

"A trial always brings out the best and the worst in those being tried," he taught. "New Orleans is special because it is teaching a lesson. The tragedy has taught us all that we cannot depend on others, we must depend on ourselves."

He expressed that it was an honor to listen to the survivors, the stories of which he said are inspiring to him and the delegation. He then pledged that the Millions More Movement will do everything in its power to ease the suffering of our Brothers and Sisters.

"There has never been progress or advancement in society, science, religion and medicine without the loss of life. It seems as though, in the plans of God, some always die that others may live," he explained. "This is a trial of great magnitude, not only on the citizens of Louisiana, Alabama and Mississippi, but this is a trial on the government of the United States of America—local government, state government and federal government. This is also a trial on those of us who are not afflicted—but are afflicted because you are afflicted.

"Now the question is, with God watching, how much do we love our people? How much do we care? Others have never cared about us. But how much do we care about what we are hearing today?"

He stressed that it is not enough for people to just send some money, shoes and clothing, and insisted that people must not simply watch and do nothing.

"I'm not talking about television cameras. I'm not talking about press conferences. I'm not talking about eloquence of speech. What I heard today does not need talk but something needs to be done," said Minister Farrakhan to the leaders present.

He revealed that millions of dollars are being allocated to companies to clean up the debris in New Orleans, but urged the importance of able-bodied men from our community to return to the city and get involved in the rebuilding process.

"We have to be proactive!" he declared.

He noted that over $700 million had been given to the American Red Cross and other charities, and called for the Millions More Movement to develop an oversight committee to "force them to open their books and show us the money that the American people have raised and where did that money go."

He also pointed out the need for Black contractors to become a part of the rebuilding process.

"FEMA is too White to represent us and so is the Red Cross. So we are going to demand our place at the table," he insisted. "They think we are asleep, but Katrina woke up Black America and Katrina woke up the whole Black world."

Members of the panel who joined the Millions More Movement delegation included Congressman Al Green, Leonard Muhammad, Mayor Frank Jackson, Kofi Taharka, Councilmember Ronald Green, Deloyd Parker, Jim Jones of the Diplomats, Rev. Dezee Coldfield, State Rep. Alma Allen, State Rep. Al Edwards, Minister Willie Muhammad of Muhammad's Mosque No. 46 in New Orleans, La., Lateef Salley, State Rep. Garnet Coleman, among others.

God's Plan

After leaving the survivors with a message of hope and encouragement, the delegation traveled to the campus of Southern University in Baton Rouge, where Minister Farrakhan spoke to a crowd of over 300 people, which included community leaders and educators and concerned citizens from Baton Rouge and surrounding areas.

Minister Farrakhan spoke about the plan of Allah (God) as it related to the wickedness of America. Referencing the scriptures of Paul, he said, "We war not against flesh and blood, but against principalities, against powers, against the rulers of the darkness of this world, against spiritual wickedness in high places." He taught that God's plan is the destruction of the wicked who rule however, he noted, the primary victims of Hurricane Katrina are Black people.

He also announced the plans of the Millions More Movement to form an oversight committee of the country's charities, and informed that he had received a report that the levy system in New Orleans, which keeps surrounding waters from flooding the city, was purposefully destroyed to save the business district and affluent areas of New Orleans. To the doubtful, he advised not to put it past the wicked to allow thousands to die for the benefit of the wealthy who rule.

(Dora Muhammad contributed to this report from Charlotte, N.C., and Minister Andrew Muhammad contributed to this report from Baton Rouge, La.)
Source: FinalCall.com