"Commemoration Marked the Launch of Millions More Movement that Brought
Together A Diverse Coalition of National and International Leaders and Organizations"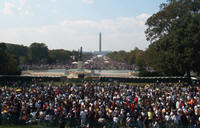 Washington, DC – Today, more than a million men, women and children gathered on the national mall, held hands and pledged to restore lives, rebuild communities and repair families. The gathering, lead by the Honorable Louis Farrakhan, who issued a call to action to the African American community, included a wide-ranging alliance of national and international leaders, politicians, entertainers, sports personalities and groups who participated in a program that spoke to unity, spiritual values, education, economic development, political power, reparations, the prison industrial complex, health, artistic/cultural development and peace. The message for the day and the movement was unity and inclusive of all people in the struggle to improve the conditions of the poor and dispossessed.
"God has smiled upon us today with this beautiful gathering of our people," said the Honorable Minister Louis Farrakhan, national convener of the Million More Movement. "This is the beginning of a new movement where all of our brothers and sisters, black, brown, red and white, will work collectively to address the many issues that affect our people and the poor in this country. We must pull together and use our God given talents and resources to improve the devastating conditions of our people and lift them to a higher level. Only when we pull together will we realize the greatness that God has in store for African Americans."
Minister Farrakhan, who presented a platform for strengthening the black community, provided instructive solutions to the many issues laid out by the array of speakers who spoke before him. Farrakhan challenged the audience to make the movement a priority and warned that the real work begins after the day's event. He called for the black community to join forces with other groups across the country, and around world such as the Native Americans, Latinos, Africans and the American who have similar life conditions.
"It is the strength of unity that will make the difference in how we respond to the ills of our community and, make right what has been wrong for years, said Minster Farrakhan.
Against the backdrop of the devastating aftermath of Hurricanes Katrina and Rita, Minister Louis Farrakhan presented a protocol for action to begin the process of resolving many of the problems facing the black and poor communities. The plan included the development of a Ministry of Trade of Commerce, Ministry of Development of Africa and the Caribbean, Ministry of Justice, Ministry of Information, Ministry of Health and Human Services, Ministry of Science and Technology, Ministry of Education, and Ministry of Agriculture.
Minister Farrakhan cautioned the audience that the journey to address the collective problems is not short or easy, but African Americans must unite and commit to the movement that pledge to stay together for the long haul. The minister ended the day by joining forces with all people regardless of race, social status, economic status and educational background. He left the people with a message of reassurance stating, "United we can solve our problems and divided we have nothing."
The Millions More Movement program, which was designed to support diversity and the call for action, included a variety of activities and speakers from the very young to the elders; and artists and entertainers, ranging from hip-hop to spiritual music, to classical to R & B music.
The start of the program began with unity prayers offered by a culturally diverse segment of the religious community and was reflective of the Movement's intercultural outreach. Baba Hannibal Afrik (Mississippi Chair, NCOBRA) offered libation and Sheik Ahmed Tijuani began the program with the Morning Prayer. First Americans Warrior woman (Native American Dakota Nations), Kanahus (native Youth Movement) and Brother Vernon Belcourt (Native American) were featured in the early morning interlude. Unity Prayers were offered by Rev. Grainger Browning (Senior Pastor of Ebenezer AME Church); Minister Khadir Muhammad (East Regional Minister, Nation of Islam); Brother Yatsila Ben Israel (African Hebrew Israelite Nations, Dimona, Israel) and Chief Ernie Longwalker (Native Indian Dakota Nation)
Among the powerful leaders at the event who spoke on the issues platform of the Millions More Movement were Reverend Willie Wilson (Executive Director of the Millions More Movement), The Honorable Marion Barry, Jr. (Former DC Mayor and DC Councilmember), Dr. Dorothy Height (President Emeritus National Council of Negro Woman), Reverend Al Shartpon (Politician/National Action Network), Congresswomen, Shelia Jackson Lee (8th Congressional District of Texas), Congressman Danny Davis (7th District of Illinois),
Russell Simmons (Hip-Hop Mogul and Businessman); Congressman Mel Watts (Chairman, Congressional Black Caucus); Marc Morial (President, National Urban League); Rev. Benjamin Chavous Muhammad (Executive Director, Hip Hop Summit Network and Co-Convener of the Millions More Movement); Dr. Julianne Malveaux (Author/President of Last Word Productions, Inc.), Minister Akbar Muhammed (Nation of Islam), Dr. Conrad Worrill (National Chairman of the National Black United Front), Brother Malik Shabazz (National Chairman, New Black Panther Party) Susan Taylor (Editorial Director of Essence Magazine); Dr. Maulana Karenga (Chairman Organization US); Dr. Ramon Edelin (Vice Chair, National Black Leadership Roundtable); Dr. Leonard Dunston (President, National Black Social Workers); Sister Nia Muhammad (Founder, Wedded Bliss Foundation); Dr. Asa Hilliard (Professor of Education, Georgia State University); Dr. Joyce King (Chair, Educational Leadership); Rev. Jesse Jackson (Rainbow PUSH/Coalition); Congressman Elijah Cummings (7th District of Maryland); Dr. Therman Evans (Clergy Leader, Author and Medical Doctor); Dr. Cornell West (Professor of Religion and African American Studies, Princeton University); George Curry (Editor-in-Chief, National Newspaper and Publishers Association); Congresswomen Carolyn Cheeks-Kilpatrick (13th District, Michigan); Bob Law (Co-Chair, New York Organizing Committee) Charles Johnson (MATAH Network); Chris Silvera (President, National Black Teamsters Caucus) Patricia Ann Ford (Metropolitan Washington Labor Council); Kenny Gamble (Award Winning Songwriter, Singer, Entrepreneur); ); Dr. Major Jemison (President, Progressive National Baptist Convention); Damu Smith (President, National Action Network); Dr. Conrad Worrill (National Chairman Black United Front); Attorney Elaine Jones (Former Executive Director, NAACP Legal Defense Fund); Dick Gregory (Social Activist and Comedian) and many more.
Among the leaders who spoke during the International and Global Connection section of the event lead by Minister Akbar Muhammad (International Representative, Nation of Islam) were the Honorable P. J. Patterson (Prime Minister of Jamaica); Dr. Ricardo Alacron (President of the Cuban National Assembly, Parliament); Bill Fletcher, TransAfrica Forum, and Dr. Ron Daniels (Institute of Black World).
The leading music artists, gospel groups and entertainers participating on the program were Jadakiss (Hip Hop Artist), Doug E. Fresh (Hip Hop Artist), Jim Jones (Hip-Hop Artist and member of Diplomat); India Arie (R & B Artist), Dick Gregory (Civil Rights Activist), Erykah Badu (Songstress and Social Activist); Chuck D (Rap Legend/Public Enemy); Wyclef Jean (Award Winning hip Hop Artist); Shikenah Glory Choir (Gospel musicians); Brenda Jackson (International Music Artist); New Generation Choir (Gospel Group); J. Boog (Gospel Hip-Hop Artist); Steve McCoy and Greater Purpose (Gospel Artist); Suad El-Amin (Artist) and the Muhammad School of Music String Ensemble.
Reflecting on the day, National Executive Director of the Millions More Movement, Rev. Willie F. Wilson stated, "This powerful, dynamic display of unity portends of great things to come in the efforts to rebuild and repair the lives of our people and the places where they live. The program showed the rich diversity of the African American community politically, spiritually, economically, generational and strength in diversity when unity is the bottom line."